Mission and Scope of Care
"Our family caring for your family"
Our mission is to provide our patients with professional, caring, yet cost-effective fixed-wing and ground Critical Care Transport, while maintaining high standards that meet or exceed all regulatory agency guidelines. Our goal is to be an exclusive Critical Care transport provider, while never compromising the safety of either patients or crews.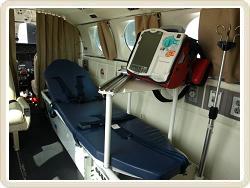 Desert Air Ambulance and Desert Critical Care Transport medical teams respond to transport requests from hospitals and non-911 requesting facilities and/or agencies requiring Critical care patient transport. Patient transport requests include, but are not limited to cardiac, respiratory, trauma, burn, neurological, surgical, medical, and pediatric emergencies. Neonatal cases are referred to specialty transport teams.
Only one patient is transported at any one time. Ground transports are accompanied by an EMT, one Critical Care RN and one Critical Care Paramedic. The flight transport team consists of a Critical Care RN and Paramedic.
Why Use Desert Air
One of the most important aspects of air medical transport is SAFETY. Statistics compiled over the past two decades have proven that fixed-wing aircraft are significantly safer than rotor-wing. In addition, our aircraft fly higher as well as faster, are pressurized (which is better anatomically for the patient), and have Instrument weather capability. Another consideration is cost. Fixed-wing transport is less than half the cost of a helicopter transport, which amounts to substantial savings for all parties involved. While most agree that rotor-wing medical transport has its niche, moving a patient from one hospital to another makes the most sense.